Post your Death Watch Character stats here. thx



Posts

: 51


Join date

: 2010-12-25


Age

: 26


Location

: Glendale



Name: Octavius Nero
Chapter: Blood Angels
Chapter Demeanor: The Red Thirst
Specialty: Assault Marine
Power Armour History: Scouring of Ultramar

WS:50
BS:44
S:35
T:35
AG:48
INT:44
PER:45
WP:40
FEL:34

Skills (Besides the ones already given):
Acrobatics
Pilot (Personal)

Wounds: 21
Fate Points: 3

Talents & Traits (Besides the ones already given):
Blood Angel Frenzy Mode
Swift Attack
Two Weapon Wielder (Melee)

Gear: Two Chainswords, Jumpack, and an Imperator Titan
Last edited by firstandonly246 on Fri Apr 15, 2011 3:30 am; edited 1 time in total



Posts

: 46


Join date

: 2011-01-17


Location

: California



Name: Zahariel Vipus
Chapter: Dark Angels
Chapter Demeanor: Son of the Lion
Specialty: Tactical Marine
Power Armour History: Encountered the Fallen/To forget is to forgive. Forget nothing

WS:48
BS:45
S:41
T:50
AG:44
INT:48
PER:40
WP:46
FEL:38

Skills (Besides the ones already given):


Wounds: 23
Fate Points: 4

Talents & Traits (Besides the ones already given):
Hatred (Chaos Space Marines)
Double Team




Gear: Flamer Power Sword, Bolt Pistol, Robe of Secrets:
Last edited by Broklaw on Fri Apr 15, 2011 10:44 pm; edited 1 time in total



Posts

: 51


Join date

: 2010-12-25


Age

: 26


Location

: Glendale



Death Watch
Name: Lorgath Kurro
Chapter: Storm Wardens
Chapter Demeanor: Aspire to Glory
Solo Mode Ability: Thunders Call
Specialty: Techmarine
Special Abilities: Improve Cover, Blessed by the Omnissiah

Starting Wounds: Twenty one (21)
Fate Points: Three fate points (3)

Starting Gear: astrates bolter with fire selector, astrates servo-arm (Common)(Is part of Armour), astrates servo-harness* (Common) ,astrates bolt pistol, 3 astrates frag grenades, 3 astrates krak grenades, repair cement, sacris claymore (Chapter Trapping) (Weapon).
Power Armour History: A Fury like Lightening

* Servo-Harness Includes; Two Servo-Arms, A 'Combi' Tool, A FycelineTorch (acts as an astrates flamer), Plasma cutter (can also be used as plasma pistol with range of 10m and no option to fire on maximal mode.)

Past: Sole Survivor

Stats: (With Characteristic Bonus)
Weapon Skill (WS) – 52 (18+30=48+4=52) (CB Bonus of 4)
Ballistic Skill (WS) – 50 (16+30=46+4=50) ( CB Bonus of 4)
Strength (S) – 47 (13+30=43+4=47)(CB Bonus of 4)
Toughness (T) – 41 (8+30=38+3=41)(CB Bonus of 3)
Agility (Ag) – 45 (11+30=41+4=45) (CB Bonus of 4)
Intelligence (Int) – 44 (10+30=40+4=44)(CB Bonus of 4)
Perception (Per) – 40 (7+30=37+3=40) (CB Bonus of 3)
Will Points (WP) – 46 (12+30=42+4=46) (CB Bonus of 4)
Fellowship (Fel) – 49 (15+30=45+4=49) (CB Bonus of 4)





Posts

: 25


Join date

: 2010-12-26


Location

: Perth, WA



Alright guys I'm happy for you, and imma let you finish,
BUT AREA 51 HAS THE GREATEST DW CHARACTER OF ALL TIME!!!
Name: Damodar "Bones" Boreale
Chapter: Rainbow Warriors
Chapter Demeanor: Taciturn
Specialty: Death Watch Apothecary - Create Toxins
Solo-Mode Ability: Burst of Speed
Power Armour History:
After being first Issued to Leonard "Bones" McCoy after the fall of the Klingon Empire, This power armor has been through 40 millenia of constant war,
after the death of Leonard McCoy, it has been handed down from generation to generation of Apothecarys who all bear the title "Bones" as their callsign. To wear this sacred suit
is a testament to one's apothecarial skills and badassery, it is truly a great honor to be blessed with such an outfit.
WS:46
BS:40
S:41
T:43
AG:34
INT:47
PER:48
WP:45
FEL:43
Skills:
Chem-Use
Autosanguine
Wounds: 22
Fate Points: 4
Talents & Traits
Level 3 Space Marine Advancement
Level 1 Specialization Advancement
Level 1 Chapter Specialization
Gear:
Astartes Boltgun (S.T.A.L.K.E.R.)
Astartes Shotgun
Power Sword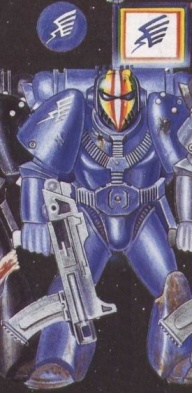 Rainbow Warriors, They're Awesome



Posts

: 45


Join date

: 2010-12-25





Similar topics
---
Permissions in this forum:
You
cannot
reply to topics in this forum